January 2019 // Illustratation & Photography Solo Show
Jan 16 – Feb 2, 2019
During the run of The 25th Annual Putnam County Spelling Bee
Opening Reception: Sun, Jan 20, 1-3pm
In the 90th Anniversary Season of Langham Court Theatre and 20th Anniversary of her business, Caprina Valentine brings together a special visual arts show, drawing parallels between her theatre poster illustration and architectural photography.
Caprina Valentine is an award-winning photographer, who photographs in a style that is attentive to detail and line, rich in texture and often scoped by a narrow depth of field. She has enjoyed photography since 1995 – self-taught on 35mm film from age twelve – and shown in over 50 exhibitions since 2005.
Caprina began graphic design shortly after, in 1998, and has served as Langham Court Theatre's branding, design, illustration and website provider for almost a decade. 100% of profits from sales of the poster illustrations – printed for the first time as limited edition art pieces – are donated to Langham Court Theatre.
---
Nov 2018 // Sooke Art & Word Book
Despite that art/creativity has really NOT been a priority for me this year, my photography still managed to be in the Sooke Fine Arts Show... and now an ART BOOK! (Ironically one photo that was declined from the former made it into the latter.) The BOOK LAUNCH is Sunday, Dec 2nd, 1-4pm at the Sooke Masonic Hall. The art book, a collaboration of Sooke artists and writers, will be on sale, accompanied by an art show... a perfect opportunity to support local artists and scoop up a thoughtful holiday gift. Hope to see some familiar faces there!
UPDATE Jan 15, 2019 // Book sales are going well. The book is available at the Sooke Region Museum, Robert Bateman Centre (Victoria), and Dragonfly Books (Langford).
---
July 29, 2018 // Sooke Fine Arts Show
My photograph, Church at Spences Bridge, in the Sooke Fine Arts Show 2018. I attended the Artists Celebration/Opening last night. Impressive show as always!
---
June 30, 2018 // Sooke Fine Arts Show
One of my photographs was accepted into the Sooke Fine Arts Show. Impressing myself. Prepared my artist bio for the Sooke Fine Arts Show and it's kinda neat to see my "best of" shots all in one place.
---
Sep 2017 // Shows at Coast Collective
Well, I honestly thought I would take a hiatus after my 50th show, Mossome: Haida Gwaii, but then a few more shows at Coast Collective Gallery enticed me to participate:
Black & White +1 // Sep 6 – 17
Black and white makes a powerful statement, further amped by a pop of one colour!
Canada 150 // Oct 4 – 15
Celebrating the beauty and diversity of Canada, past and present.
Into the Night // Oct 18 – 29
October brings cooler days and longer nights, the crackle of leaves under foot, hot apple cider, harvest and hauntings. How do you embrace this time of year?
---
Apr 2017 // Mossome: Haida Gwaii
Happy Earth Day! My solo photography exhibition Mossome: Haida Gwaii is showing at the Victoria Central Library now until June 2, 2017. It consists of six 24" x 36" prints selected from my voyage to Haida Gwaii in the autumn of 2015.
View the entire collection »
PS. This marks my 50th art show!
---
Feb 2017 // Frozen Series Debut at RED Show
Frozen Series debut at this year's second annual RED Show at Coast Collective Gallery running Feb 1st to 26th in Colwood, BC. Opening reception (meet the artists) is Sat, Feb 4th (1:00 – 4:00pm).
---
2016 // Year of City + Country
I participated in seven art shows, winning the Best in Show Award at the 2016 Look Show in Victoria. I completed my year co-living between city and country, also attending two weeks of the Capture Photo Festival in Vancouver, BC. Best of all, I did a lot of photography this year, both urban and nature, including two trips through the Rockies (summer and winter). I am looking forward to a creative 2017!
---
April 2016 // Vancouver Capture Photo Festival
Last spring I travelled to Toronto for the Contact Photography Festival. This year I stayed closer to home and spent the latter two weeks of April in Vancouver for the Capture Photography Festival. Some highlight events I attended were: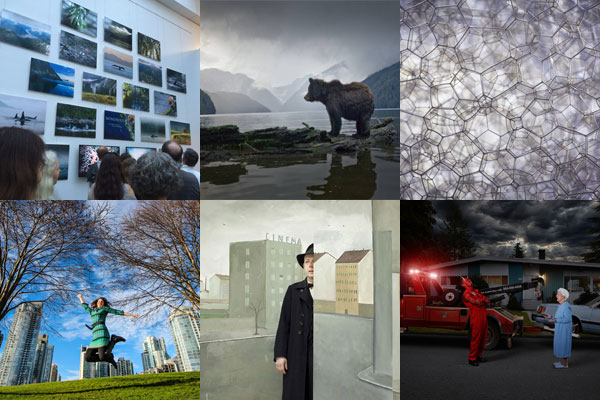 Writing with Light: Photography in Motion – Tue, Apr 19
An interdisciplinary discussion between photographer Adad Hannah and UBC Department of Physics and Astronomy professor Dr. Sarah Burke.
Wondrous – Wed, Apr 20
On display in the Science World Atrium, Andrew S. Wright's large-scale photographs celebrate the beauty and biodiversity of British Columbia's Great Bear Rainforest, an ongoing conservation effort finally making headway in the wake of the No Tankers movement.
Slideluck – Sat, Apr 23
A curated photography and videography slideshow of over 25 presentations paired with a delicious catered dinner. I found several of the presentations inspiring, notably Pacific Wild by Ian McAllister, kinetic portrait series Jump for Joy by Eyoalha Baker, and Amazing Worlds, macro photography series of everyday objects, by Pyanek Art.
Paolo Ventura: A Vanishing Man – Mon, Apr 25
A short film about successful Italian Elle and Vogue fashion photographer Paolo Ventura, who turned his back on commercial work and moved into an old farmhouse in Tuscany, where he began to create narrative photomontages with props and costumes he found in the village flea market and often featuring himself, his wife, and his son.
I also visited South Main Gallery for Dina Goldstein's Gods of Suburbia, conceptual photography placing religious figures within the modern context (e.g. Buddha grocery shopping), and the huge, impressive, though somewhat empty Monte Clark Gallery in the new Great Northern Way development.
And I spent some time exploring the urban environment with my camera on photowalks, by myself and with a group, shooting urban abstracts of the weathered walls of Vancouver's Chinatown. So much colour, texture and character being lost in a neighbourhood quickly changing with gentrification.
---
March 2016 // Best in Show
I am honoured that my photograph Woodwards won Best in Show at the diverse and inspiring Community Arts Council of Greater Victoria's 17th Annual LOOK Art Show. The group art show continues until April 10th at the Bay Centre, downtown Victoria.
---
Feb 2016 // RED Show
"Red is energizing. It sets our emotions alive and motivates us to take action. This show is all about the power of RED – in paintings, photography, sculpture, glass, and fabric art." Excited for the first show of 2016!
OPENING Friday, Feb 5th at 7:30pm // Coast Collective Gallery
NEW LOCATION #103 – 318 Wale Road, Colwood, BC
---
Dec 31, 2015 // Year in Review
So much can change in one year. I am thankful for all of it, the highs and the lows.
TRAVEL – I was fortunate to live a transient life, travelling to Toronto, Ottawa, Montreal, and Quebec City in the spring, Gulf Islands in the summer, and Haida Gwaii and Canadian Rockies in the autumn, and co-habiting between Sooke and Vancouver.
AWARDS + SHOWS – I placed Best in Photography (Look Show) and 1st Place (Asian Influences Show, Coast Collective Gallery), as well as being accepted, shown and selling multiple prints at the prestigious Sooke Fine Art Show. I had my first solo show in Victoria, as well as my first show off-island, in Vancouver. In total, I participated in 11 shows.
---
Dec 2015 // Recent Travels
MOSSOME: HAIDA GWAII
This past October I ventured northward to the islands of Haida Gwaii (also known as Queen Charlottes). It was a mythical two-day journey by land and sea to a remote region of mossome (moss + awesome) forests, sandtacular (sand + spectacular) beaches and the photo journey of a lifetime — indeed an opportunity I could not pass up!
CANADIAN ROCKIES ROAD TRIP
One month later, at the end of November, I traveled with my partner to visit his family across the chilly, mountainous terrain of northern British Columbia and flatlands of Alberta. The 2500km road trip took us up the Fraser Canyon to Prince George, over to Edmonton, Drumheller (where I reconnected with my own family roots) and Calgary and back through Rogers Pass via Golden to Vancouver.
I will be designing photo journal websites and books for all my recent adventures over the coming year – stay tuned!
---
Oct 2015
The Community Arts Council of Greater Victoria is featuring my architectural photography in the window at the Central Library downtown Victoria from Oct 23 to Dec 4. If you're interested in purchasing limited edition prints of Fisgard Lighthouse, Odeon or Woodwards, please email me and I will respond when I return from holidays, Nov 1st.
UPDATE NOV 2 // In addition to these architectural photos, I have several others hanging in the Central Library Gallery, one of which went missing over Halloween weekend in the most interesting Stolen Art Caper — my photograph of skulls in the Paris Catacombs was reported missing Thursday by library staff and later recovered on the #61 Sooke bus and returned by a fellow resident and good samaritan. Thank you!
---
Aug 3, 2015 // Woodwards
I am thrilled that one of two of my photographs, Woodwards, in the Sooke Fine Arts Show has sold off the gallery wall, as well as a second limited edition print!
UPDATE AUG 28 // Woodwards #3/25 has sold. While I didn't get to meet who purchased #1 directly from the show, it has been great meeting buyers #2 and #3 and hearing their personal stories and connections to the place. Yes, the W is from the old Woodwards Department Store sign in Vancouver (archival photo above).
Laura (#2/25) wrote to me, "Back in the 1970's, I haunted the cafe in the bottom of the Woodwards department store. My friends and I discussed the meaning of life, etc, for hours there, no doubt driving the waitresses mad. It has great memories for me... and aside from the fine memories that it evokes, it's also an excellent photo."
Lindsay (#3/25) told me when she was little, she used to go to Woodwards with her mother for the cafe. Now Lindsay is downsizing and her mother is moving in, so she purchased the print for their new apartment.
UPDATE FEB 02, 2016 // Lorna (#4/25) recollects fond memories of visiting Woodwards with her grandmother to see the annual Christmas window displays.
Read more on The Department Store Museum » and Wikipedia ».
---
June 17, 2015
Great news to receive on the day I fly home to BC: two of my never-before-seen photographs (both architectural) were accepted into the juried Sooke Fine Arts Show opening July 24th and showing through August 3rd.
---
Apr 15, 2015
I am very excited to be part of Victoria: Past Present Future, a group photography exhibit and launch of Art Atelier 546, a new gallery opening this Sat, April 18th on the lower end of Yates Street, downtown Victoria. This is the first time I've been encouraged to PRINT BIGGER – 12 x 18 prints – and they look beautiful!
---
Apr 8, 2015 // Lab Art Show
The LAB Art Show, a one-day-only mutli-media event in Vancouver BC, is my first off-island show; the Art Director wanted 7 of my abstract/architectural photos!
Sat, April 11, 6pm – 12am at The Roundhouse in Yaletown, Vancouver
---
Feb 27, 2015 // Best in Photography
I attended the diverse and inspiring Community Arts Council of Greater Victoria's 16th Annual LOOK Art Show opening last night and I am honoured that my photograph Dragon Alley won Best in Photography!! The group art show continues until Saturday, March 21st.
---
Feb 18, 2015 // Asian Influences
Growing up on Canada's western-most coast, I have always been intrigued and inspired by the Asian cultures across the vast ocean of the Pacific that I read about in books. Here in Victoria, we are fortunate to be home of North America's second-oldest Chinatown, through which I've spent many afternoons leisurely wandering – even living in a loft there for a year.
Fan Tan Geisha (top left) and Wicker (bottom right) are taken in Victoria's Chinatown, in the passageway between Pandora and Fisgard Streets known as Fan Tan Alley. Guardian (bottom left) was taken at the Gates of Harmonious Interest in San Francisco's Chinatown, a bustling affair, several times the size, and the oldest one in North America.
ASIAN INFLUENCES group art show opening reception this Sat, Feb 21st (2-4pm) at Coast Collective Gallery, 3221 Heatherbell Road (off Metchosin Road).
UPDATE FEB 21 // My photograph Fan Tan Geisha won first place!
---
Jan 2015 // Creative New Year
I was impressed by the awesome/inspiring variety and talent of the CREATIVE NEW YEAR group art show at the Community Arts Council of Greater Victoria's Main Gallery at Cedar Hill Rec Centre. Go see it – showing for one more week!
2015 SHOWS:
CACGV Creative New Year // Victoria BC // Jan 7 – 21, 2015
Abstraction // Coast Collective Gallery // Colwood BC // Jan 21 – Feb 1, 2015
Asian Influences // Coast Collective // Colwood BC // Feb 18 – Mar 1, 2015
CACGV Look! Show // The Bay Centre // Victoria BC // Feb 28 – Mar 21, 2015
Bloom // Coast Collective // Colwood BC // Mar 18 – Apr 5, 2015
---
Nov 2014
I am showing one photograph in the themed group art show on during The Small Room at the top of the Stairs at Langham Court Theatre in Victoria, running Nov 20th – Dec 6th, and two photographs in the Sooke Arts Council holiday group show at the Reading Room Cafe in Sooke through Jan 3rd. And I am selling photo cards and prints at the ONE DAY ONLY CACGV Show + Sale at the Cedar Hill Rec Centre this Saturday, November 29th.
---
Nov 18, 2014 // Europe Timelapse Videos
I finally got around to making two sunset timelapse videos from my Europe adventure earlier this summer. The first is from one of two nights spent wandering the fortified city of Carcassonne, South France, capturing a magical moment. The second timelapse (with some stills): after a rushed, crowded daytime tour, I hiked up the hill behind the hotel to the peacefully deserted La Alhambra Fortress in Granada, Spain for the sunset. (I was even asked to take a couple's engagement photo on the spot where the man just proposed and she said YES!)
---
Oct 15, 2014
I feel honoured (and surprised!) to find one of my two photographs (both shown here) won second place at the Black+White+1 group art show at Coast Collective Gallery last week. (I didn't even know the show was being judged!)
---
Mar 8, 2014
Just found out that my photographic tryptich SOLD in the Art Inspired by The Graduate group art show at Langham Court Theatre over the opening weekend. Both the art show and play run until Mar 23rd.
---
Nov 16, 2013 // Massively Mini
The Metchosin Art Gallery (MAG)'s Massively Mini Art Show runs until Dec 1st.
408 small artworks, beautifully displayed by the talented Hailey Finnigan – two of which are mine and have both sold!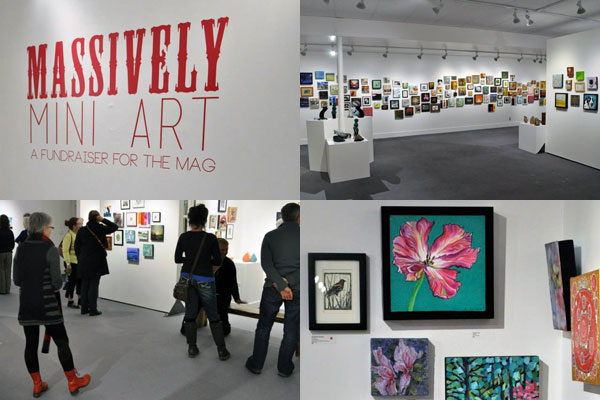 ---
June 24, 2013 // Sooke Fine Arts Show
I am super excited to announce that, for the first time, I have had two photographs accepted into the juried Sooke Fine Arts Show this summer! I entered three and I found it interesting that they chose the two opposites: one an urban abstract (Strapped, right) and the other nature (Peeling/Renewal, left).
Photo taken later at the show
---
April 2013 // LOOK! Show
Two photographs showing in the 14th Annual Look Show by the Community Arts Council of Greater Victoria. April 11 – 27, 2013
---
Feb 1, 2013 // Photolife Magazine
One of my photos is published in the new Feb/Mar 2013 issue of Photolife Magazine! I received an email this morning, while still laying in bed, that my photo had been accepted to the Showtime: Food section and I could hardly believe it – I had to wait to see the physical copy in my hands!
---
Jan 31, 2012 // B&W
Three of my hand-printed silver gelatin photographs are framed and ready to go for the Black & White Show at Coast Collective Gallery, opening Sat, Feb 11th.
---
2005 LOOK! Art Show
Great turnout and a full gallery of inspiring artworks – they've taken over the entire empty store on the lower floor of the Bay Centre downtown Victoria!